While the siren rang for two minutes, people on the street stopped walking and traffic came to a standstill.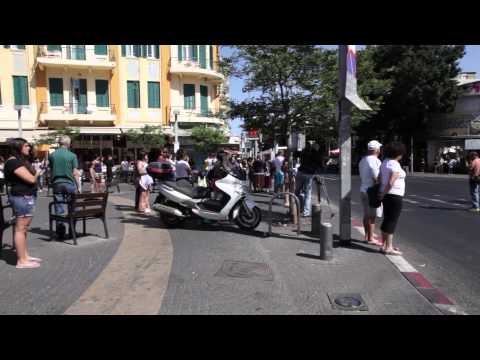 At 11 o'clock on Wednesday morning, Israel stood in silence for two minutes as sirens wailed on Remembrance Day. This uniquely-Israel style of commemoration was done to pay respect to Israel's 23,320 soldiers and civilian victims of war and terrorism.
During the siren, which also sounds on Holocaust Memorial Day and the eve of Remembrance Day, all activity comes to a dramatic stop. All vehicles, whether public or private, stop in the middle of the street while drivers and passengers stand next to their cars; pedestrians on the street stop in their place, arms at their sides; businesses also momentarily stop whatever they are doing.
Prime Minister Benjamin Netanyahu spoke at the central memorial ceremony for fallen soldiers at the Mount Herzl military cemetery Wednesday, recognizing the sacrifice of those who gave their lives for the State of Israel and urging Israelis to appreciate the meaning of that loss.
"Our enemies must know they will not break us," the prime minister said, quoting a widow who spoke Tuesday in the Knesset's memorial ceremony.
Netanyahu stressed the importance of unity on Memorial Day. "We are one family: Jews and our non-Jewish brothers — Druze, Muslims, Bedouins, Christians, Circassians," he said.
The prime minister also spoke out against war. "Anyone who has experienced the anguish of bereavement is not eager to go to battle," he said, mirroring comments the previous day made by President Reuven Rivlin.
"Our sons did not go to battle thirsty for blood," Rivlin said at the Western Wall in Jerusalem Tuesday night. "Not this past summer, not those before, not in those that, God forbid, are still to come. We are forced to fight."
"We express our gratitude for everything we have earned," the prime minister said Wednesday, "for the wonder of our sovereignty, the gift of freedom, the miracle of our renewal."
The official state ceremony commemorating victims of terror attacks began at 1 p.m. at the Victims of Acts of Terror Memorial on Mount Herzl. Rivlin, Netanyahu and IDF Chief of Staff Lt. Gen. Gadi Eisenkot were in attendance.
There the prime minister lamented what he called the celebration of terrorist acts.
"Many of our neighbors glorify murderers and carry them on their shoulders," Netanyahu said at the ceremony. "The more they murder, the more they glorify them."
But, Netanyahu said, "The memory of those killed in terror attacks will be with us forever."