Daily News (March 26) — Houston firefighters made a daring rescue of a construction worker trapped on an upper balcony of an under-construction apartment complex as a raging fire nearly trapped the man.
The helmeted worker stood on an upper-floor balcony Tuesday as a five-alarm fire engulfed the $50 million, 396-unit apartment complex at W. Dallas and Marconi Sts. in downtown Houston.
The worker waved for help before hanging down and jumping to a lower balcony as the inferno became too intense.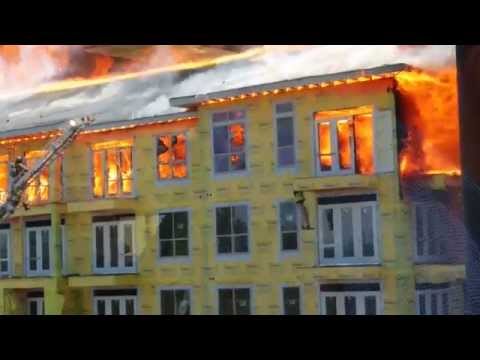 Firefighters got the ladder in place just in time. As the worker climbed aboard and the ladder was moved away from the building, the burning walls began to fall, crashing down where the construction worker and firefighter had been just moments before.
No injuries were reported in the blaze, which officials believe was sparked by workers welding on the roof.