The Palestinian Media Watch
(Aug 6) — One of the most dangerous libels promoted by the Palestinian Authority (PA) and Fatah is that
Israel
is planning to destroy the Al-Aqsa Mosque. As documented by
Palestinian Media Watch
, this libel has been disseminated by the PA for many years and increases occasionally, often appearing alongside calls by the PA to increase "popular resistance." According the the PA, this includes rioting, stone throwing and other attacks against Israelis.
The above cartoon posted by Fatah shows a Jew trying to destroy the Al-Aqsa Mosque and warns of religious war. The Jew in the cartoon has the word "excavations" written on his suit. The PA adamantly opposes excavations near the Temple Mount and in the City of David because the many archaeological finds in those areas related to Jewish history expose the falsehood of PA claims that Jews never lived in Jerusalem and that there never was a Jewish Temple. The PA therefore charges that the excavations are intended to cause the Mosque to collapse.
Two other recent cartoons, one posted by Fatah and the other in the PA official daily, likewise depict Israel destroying the Al-Aqsa Mosque. In one cartoon, an Israeli soldier is cutting the dome off the Dome of the Rock. In the other, Israeli PM Netanyahu is digging up the foundation of Al-Aqsa Mosque with a bulldozer:
Last month, in the period leading up to the recent riots by Palestinians at the Al-Aqsa Mosque, the PA had increased the frequency of this libel. PA Minister of Religious Affairs, Sheikh Yusuf Ida'is, who is appointed by PA Chairman Abbas, claimed that Israel is carrying out an "evil plan to destroy the Al-Aqsa Mosque and establish the alleged Temple":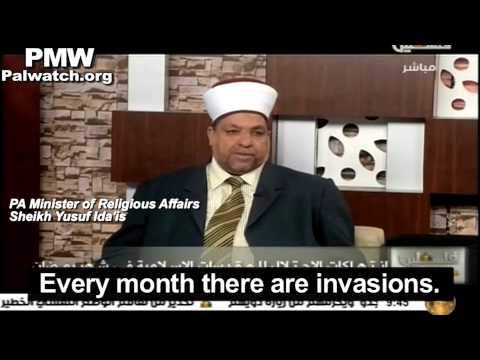 The PA solution to Jewish visits to the Temple Mount is to increase violence there and eventually get rid of any Jewish presence there, as is shown in this cartoon broadcast on PA TV and posted on the Facebook page of Palestinian National Security Forces:
Click to view more examples of the PA promoting the libel that Israel is attempting to destroy Al-Aqsa Mosque.
Click to view more examples of the PA defining the conflict with Israel as a religious war.
Click here for full article about the PA promoting religious war.