Retired talk show celebrity to host first $1 million Genesis Prize as well as perform a little stand-up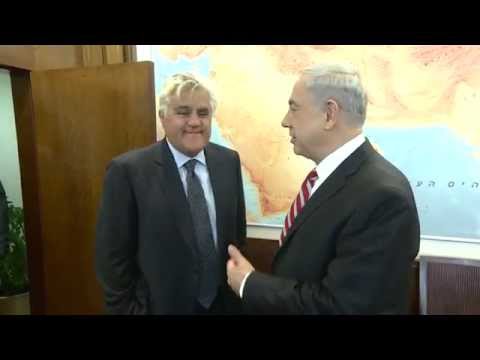 The Times of Israel (May 21) — Prime Minister Benjamin Netanyahu welcomed talk show host Jay Leno to Israel on Wednesday at the start of a trip during which the TV celebrity is to host the $1 million Genesis Prize ceremony and tour the country.
"It's a huge honor," Leno said as the two men shook hands in the Prime Minister's Office in Jerusalem. "I just want to thank you."
"No," replied Netanyahu, "thank you."
According to the Genesis Prize Foundation, the award is aimed at individuals who have gained international recognition in their field and whose action "embody the character of the Jewish people through commitment to Jewish values, the Jewish community and/or to the State of Israel."
The prime minister is to headline a list of more than 400 dignitaries in an audience that will also include business leaders, Nobel laureates, philanthropists and entertainers. Grammy-winning pianist Evgeny Kissin will perform.
It is Leno's first trip to Israel. At a time when pro-Palestinian activists are urging entertainers to boycott the Jewish state, he said in an telephone interview earlier this month that he doesn't have "any problem" with his decision to appear in the country.
While he said that he sees both sides of the Israeli-Palestinian conflict, Leno said he considers himself to be "very pro-Jewish, very pro-Israeli."
"At some point in your life, you have to sort of take sides. I tend to side with the Jewish point of view on many things, especially issues like this one. I realize how important Israel is," he said.