Brought to you by verygoodnewsisrael.blogspot.com:
SodaStream Arab workers – "don't boycott us".  Palestinian Arab workers at Israel's SodaStream factory in Judea say they would be the losers of a successful consumer boycott of the fizzy-drink maker.  They back actress Scarlett Johansson's endorsement of the company.
http://elderofziyon.blogspot.co.il/2014/01/arab-sodastream-workers-applaud-their.html#.UutfdPuSN3E
2,600 years of friendship.  Georgia's Prime Minister, Irakli Garibashvili, visited Israel to increase economic cooperation between the two countries.  He said "the bond between the Georgian and Jewish people goes back 2,600 years, when the Jewish people first came to Georgia after the destruction of the First Temple."
http://www.algemeiner.com/2014/01/28/israeli-president-georgian-prime-minister-tout-2600-years-of-friendship/
World's first 3D color printer.  US-Israeli Stratasys Inc has launched the world's first 3D color printer – the Objet500 Connex3 Color Multi-material 3D Printer. The company calls the product "a game-changer for product design, engineering and manufacturing processes."
http://www.globes.co.il/en/article-stratasys-introduces-color-3d-printer-1000912497
Jerusalem's water is the best.  Thanks to Israeli clean-tech Hagihon, Jerusalem's Water and Wastewater Utility was one of the top 5 cities cited in the recent EU report "EIP Water, City Blueprints of 25 Cities and Regions, Interim Report."  Jerusalem top-scored in planning, drinking water quality, and water efficiency.
http://israelnewtech.com/2014/01/hagihon-provides-platform-israeli-water-technology-innovations/
A robotic revolution.  This 17-minute video of Israel's IDC Professor Guy Hoffman had over 1.2 million views in four days.  YouTube ranked the lecture "The Interaction between Artificial Intelligence, Robots, and Art" as one of the three most viewed videos in the world.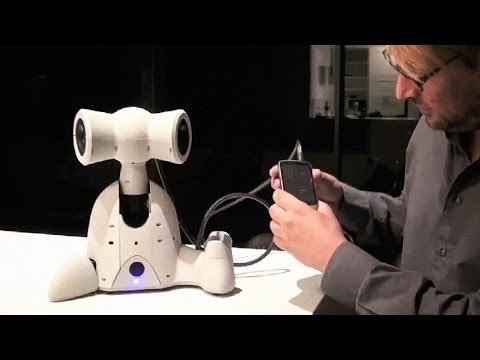 http://www.algemeiner.com/2014/01/23/israeli-profs-artificial-intelligence-robots-and-art-lecture-at-tedx-goes-viral-video/
Israel is leading West's cyber-security fight. The PM then spoke at Israel's first-ever cyber-technology show, Cybertech 2014.  "Hackers are killing the Internet, and Israel is one of the few players that can save it" he said.  Bloomberg has also picked up on this fact, noting that Israel now has over 200 computer security companies.
http://www.timesofisrael.com/netanyahu-israel-is-leading-wests-cyber-security-fight/
http://www.bloomberg.com/news/2014-01-29/israel-s-cyber-security-prowess-is-attracting-foreign-firms.html
SodaStream's uncensored advert.  The Super Bowl organizers banned Scarlett Johansson's original advert for Israel's SodaStream as it mentioned two competitor drinks manufacturers. But you can watch it here.