World media coverage of Jerusalem terror attack raises eyebrows in Israel.
The Jerusalem Post (Nov 18) — From mistaking the Har Nof synagogue where Tuesday's terror attack took place for a mosque, to deleting references to Palestinian perpetrators, some of the international media continued to report on the events in Israel in an eyebrow-raising manner on Tuesday.
The website of British newspaper The Guardian ran a story about the attack from Reuters. The wire dispatch the agency sent included the headline 'Palestinians kill four in Jerusalem synagogue attack' and led with the sentence:  "Two Palestinians armed with a meat cleaver and a gun killed four people in a Jerusalem synagogue on Tuesday before being shot dead by police…."
However The Guardian changed their headline to "Four worshippers killed in attack on Jerusalem synagogue" and in their lead, they also excised any reference to Palestinians, publishing:  "Two men armed with axes, knives and a pistol have killed four Israelis and wounded several others in a Jerusalem synagogue …"
In another questionable slant on its coverage, CBC headline their report on the attack with: "Jerusalem police fatally shoot 2 after apparent synagogue attack."

In a reporting gaffe, CNN superimposed their preliminary coverage of the terror attack with the headline: "Deadly attack on Jerusalem mosque."
Click here for original source.
"BBC to Bennett: We don't want to see victims of terrorism" November 14: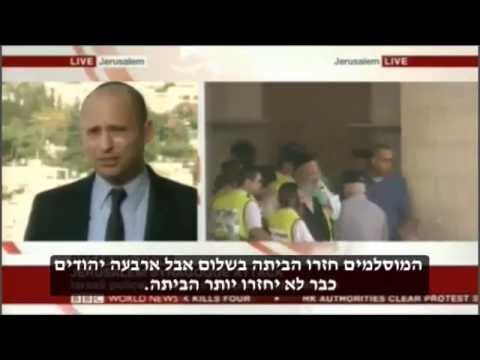 A BBC interviewer refused to allow Economy Minister Naftali Bennett show a photograph of victims of the terrorist attack in Jerusalem in an interview Tuesday morning.
Bennett appeared on BBC World News after a Palestinian spokesman, who claimed that Jews were murdering Palestinians in Jerusalem.
The Bayit Yehudi leader responded: "The fact is that [Palestinian Authority President Mahmoud Abbas] himself incites and tells the Arabs 'take arms and fight the Jews.'"
Bennett's comments echoed earlier remarks calling Abbas one of the biggest terrorists of the Palestinian people and blaming him for the bloodshed.
Then, Bennett lifted a photo of the scene of the terrorist attack, depicting a man in a tallit lying face down on the floor of a synagogue.
"You know, this individual came this morning to pray," Bennett said, pointing at the man in the picture.
"We don't want to actually see that picture, if you could take that down," the interviewer shot back.
Bennett continued: "This individual came this morning to pray, just like many Muslims and many Jews went to pray this morning. The Muslims went home safe [sic], but four Jews will never come home again."
The clip soon made waves on social media, after Bennett shared it.
British journalist Jake Wallis Simons, who was covered Israel extensively for The Telegraph, among other major news sources tweeted: "BBC refuses to show picture of murdered Jewish worshiper. Didn't have a problem with dead Gazans, I recall."