Abbas' Fatah:
Abbas only condemned murder of 4 Jews
because of international pressure –
just like Arafat 
To justify why Abbas condemned this morning's murders,
Fatah publicized a video today that PMW had exposed
in which Arafat's bodyguard explained that Arafat was lying
when he condemned terror attacks 
Palestinian Media Watch (Nov 18) — Following the Palestinian Authority's condemnation of this morning's terror attack in which 4 Jews were murdered while praying in a Jerusalem synagogue, Abbas' Fatah showed on its official Facebook page that Abbas' condemnation is not sincere.
Fatah explained Abbas' condemnation of the murders by using Palestinian Media Watch documentation showing Arafat's bodyguard explaining that Arafat would lie and condemn terror attacks due to international pressure to do so, but that "it wasn't true."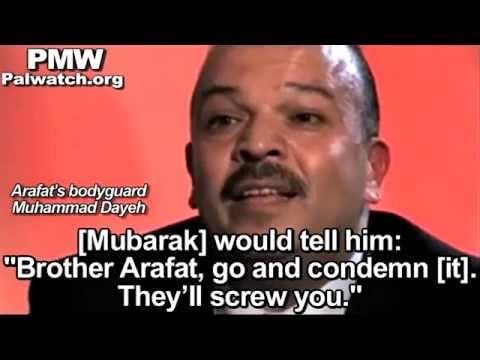 Fatah posted this text with the video: "For those who argue with Fatah: Why the PA condemns self-sacrifice operations!" [Facebook, "Fatah – The Main Page", Nov. 18, 2014]
This shows that Fatah needed to justify the fact that Abbas, heading both the PA and Fatah, issued a condemnation in the name of the PA. Arguing that the reason Abbas issued the condemnation is the same reason Arafat condemned the killing of civilians – namely international pressure – Fatah states that Abbas' condemnation is not sincere.